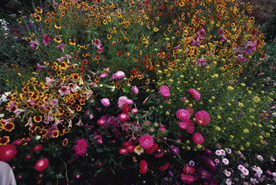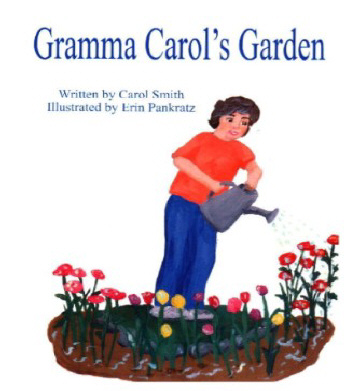 WELCOME TO
GRAMMA CAROL'S GARDEN

I WANTED TO TEACH MY GRANDCHILDREN THE LOVE OF NATURE AND FLOWERS. IN LOOKING FOR A CHILDREN'S FLOWER BOOK, I FOUND THAT THERE WERE NONE. SO I DECIDED TO WRITE MY OWN.
YOU WILL LEARN ABOUT EACH FLOWER: THE CARE IT NEEDS, HOW IT GROWS, AND WHERE IT DOES THE BEST.
COLORFUL ILLUSTRATIONS BY ERIN PANKRATZ DEPICT EACH FLOWER IN DETAIL.
HOW TO ORDER
TO ORDER PLEASE EMAIL ME TO RESERVE YOUR BOOKS. THEY MAKE EXCELLENT GIFTS. I ACCEPT CASHIERS CHECK OR MONEY ORDER . ORDERS WILL BE SHIPPED WITHIN TWO WEEKS AFTER RECEIVING PAYMENT.
M/C - VISA ACCEPTED THROUGH PAYPAL 8.00 EACH PLUS 2.00 S/H
FOR A LIMITED TIME YOU CAN ORDER TWO OF THESE WONDERFUL BOOKS (one for each grandchild) FOR ONLY 15.00 PLUS 3.00 S/H FOR BOTH.&lt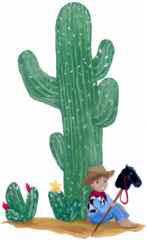 "I'M KEVIN THE CACTUS
I'M ROUGH AND I'M TOUGH
I LOVE THE SUN 'PODNUH
I CAN'T GET ENOUGH".....

MY BOOK
THE BOOK INCLUDES THE STORY OF MAYDAY, INSTRUCTIONS FOR MAKING A MAY BASKET AND FLOWER SEEDS TO GROW THEIR OWN GARDEN.
SHARE WITH CHILDREN THE TRADITION OF MAYDAY. THEN ENJOY THE DELIGHTFUL CHILDREN WITH THEIR FLOWERS:
TIFFANY TULIP
ZACHARY ZINNIA
KEVIN CACTUS
AND MORE.....
EACH FLOWER CHILD TELLS ABOUT THEIR OWN FLOWER.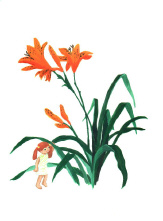 Toni Tiger Lily